Ventisquero (Heru) Pinot Noir 2016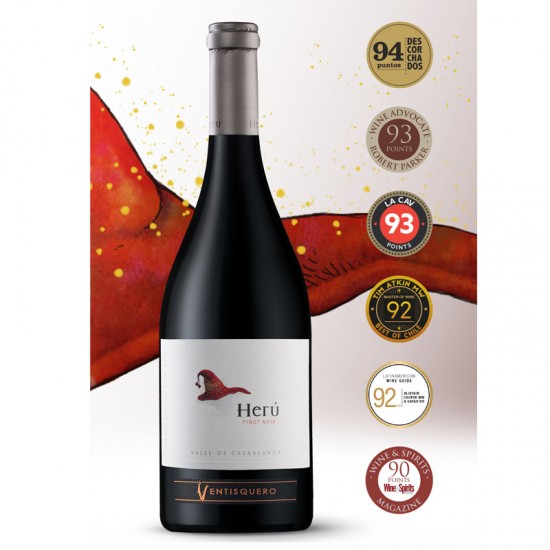 HOT By Phone Only
Ventisquero (Heru) Pinot Noir 2016
Stock:

By Phone Only

Model:

01110417
Description
Legend tells the story of an elf named Herú who secretly lived among the vines of Casablanca while keeping watch over the harvest, his most precious treasure. His name evokes perfection and embodies the spirit of this remarkable wine.
Variety : 100% Pinot Noir
Region : Casablanca Valley


Ageing

100% of the wine was aged in French oak barrels for 14 months; 35% in new barrels, 35% in second use and 30% in third use barrels
Bottle Ageing
3 Months
Consumption
In optimal storage conditions, will continue to improve over 8 years
Winemaker Comments
Deep ruby red with violet highlights. The nose opens with red berries such as strawberries, raspberries and morello cherries, responding to the classic profile of this noble variety. Soft notes of vanilla and spices intermingle with delicate mineral hints - a wine that is both seductive and complex. On the palate, it boasts juicy red fruit, a crunchy.
Award(s)
* 92 points at Wine Advocate - Robert Parker for vintage 2017
* 94 points at Descorchados 2020 for Vintage 2018
* 93 points at Wine Advocate - Robert Parker 2018
* 93 points at Descorchados 2019 for Vintage 2017
* 94 Points from Tim Atkin in Wine World for Vintage 2015
* 94 points at Descorchados 2017 for Vintage 2015
* 91 Points from Tim Atin in Wine World for Vintage 2013
* 93 points at Guia Descorchados 2015 for Vintage 2013
* 92 points at Descorchados 2014 for Vintage 2011
* 90 points at Guia Mujer Y Vino 2014 for Vintage 2011
* 91 points at Wine Spectator Magazine 2014 for Vintage 2011
* 91 points at Stephen Tanzer's International Wine Cellar (USA) for Vintage 2011
* Silver Medal at International Wine & Spirits 2014 (UK) for Vintage 2011
Specifications
General
Content
70 ml
Alcohol
13%
Country of Origin
Chile